At CLI Studios, we know the impact and value dance has on a person's life and it is our mission to make arts education more accessible to all. So, today we're focusing outwards and recognizing dance organizations that are giving back to their communities or to the dance community as a whole. After reading, you might consider the ways you can give to these organizations or you may be personally inspired to make an impact in your own community. No act of generosity is too small, and no 'Thank You!' is ever too much.
Just as important, if you or your local dance studio are in need of something these organizations provide, most of their contact information is easily accessible on their websites. You do not only have to be the giver during the season of giving!
With that said, here are a few dance organizations that are giving back this holiday season: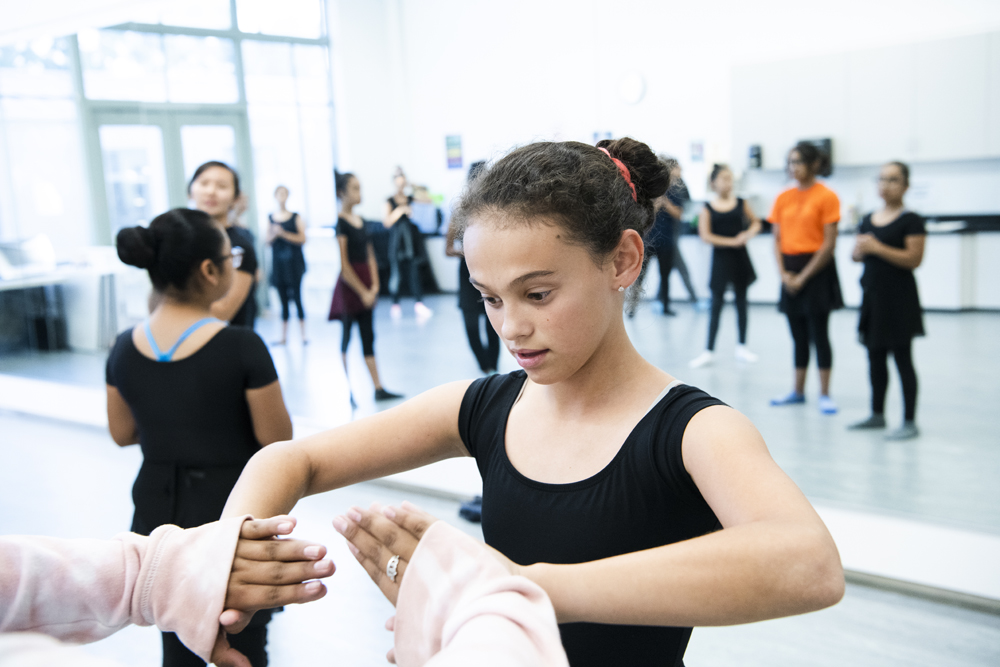 A Step Beyond
A Step Beyond offers dance education, academic support, and family services to underserved youth in the Escondido, CA area. What makes their program unique is that it focuses on a holistic, long-term approach to a child's well being, and then follows them through college and beyond. A child gets support for 10 years, and then is encouraged to Pay it Back as an alumni. The children in this program get to use dance as a way to express their feelings, gaining an outlet they may not have had at all before. Many of the children in this program will be the first in their family to go to college, and tout their experiences and lesson learned in their dance classes as essential to getting them there.
Dancing Dreams
Dancing Dreams has three locations in NYC where dancers with medical or physical challenges can go to take a class and rehearse for annual performances. The organization focuses on the joy of expression through movement for all bodies ages 3-21, and on advocacy and community integration for those with physical challenges. In the adaptive dance classes, each dancer is assigned a teen "Helper." The Helpers are not simply forgotten volunteers, they also get to attend leadership workshops through the organization's "Teen Leadership Program." The adaptive dance classes are taught by pediatric physical therapists. Their motto? "Everyone plies, they just do it in their own way."
National Dance Institute
NDI is a NYC based organization with a variety of programs, mostly tailored towards students in public schools in the city. Founded in 1976 by legendary dancer and then principal of the New York City Ballet, Jacques D'Amboise, the NDI and Jacques himself have won countless awards for the impact and integrity of the training, classes, and other programs offered in the organization. One of those such programs is an international partnership where the organization teaches instructors in other countries about the NDI method and how they can most benefit and improve their dance studios or dance programs.
Brown Girls Do Ballet
Brown Girls Do Ballet is a non-profit organization, and a division of Brown Girls Do., Inc, that seeks to increase participation of underrepresented populations in the arts. Through ballet performances and exhibitions, they are able to provide essential resources to young girls training in ballet. The organization was founded by TaKiyah Wallace when she was searching for a ballet program for her daughter and found a lack of cultural diversity in their local studios. Brown Girls Do Ballet has a wide range of programs for participants and offers annual scholarships, a mentor network, and community programs to empower young girls.
Donate 2 Dance
Donate 2 Dance is a New York City based non profit started by two teen sisters, Ava and Sophia Paley. The organization donates dance shoes, costumes, and other dancewear to studios with dancers in need. They brought the idea to their dance studio, Shuffles Broadway Tap and Musical Theatre School, and partnered with their philanthropic initiative, "Shuffle it Forward." What started as a donation bin at their dance studio turned into an international venture, helping to clothe more than 30,000 dancers to this date.
Keshet
Keshet is a dance studio and organization in Albuquerque, New Mexico that provides adaptive and multi-generational dance classes and has many arts and justice programs for their local community. The Keshet Arts and Justice Youth Leadership Council is a collective of youth who attend community meetings and workshops and offer peer support and educational resources to affected youth in the area. Their M3 program offers mentorship and dance education to the New Mexico State juvenile detention facility, offering support and mentorship both while students are in the facility, through parole, and upon release. Students use dance and choreography as a means to embody self-expression and an outlet for practicing conflict resolution. The program is creative and combines dance and math and English in exercises such as measuring the angles of leg heights, and involving a certain number of dancers at certain times in the music, marrying academic education with a physical and expressive form (dance).
Mindleaps
Officially founded in 2014 by Rebecca Davis, Mindleaps is a dance organization that offers robust dance programming on an international scale, focusing on providing dance education in less developed countries. They have permanent centers in Rwanda and Guinea and have expanded to include programs that offer STEM education, language and literacy, and other holistic education in addition to the dance curriculum. The program is data-driven, as well: they have a zero percent dropout rate and have seen 70% of their students perform in the top 20% of their academic class upon completion of the Mindleap program. The organization has brought its programs to Uganda, Kenya, and Mauritania, and plans to continue expanding across Africa. The iconic Misty Copeland is an advisor, ambassador, and dance instructor for the program.